What is an autopayment?
What is an autopayment?
Autopayments are a convenient way to automate the bill payment process. Once you set up autopayment, you can be confident that regular payments will be made on time, without the need to manually enter payment card details or check your account balance each time.
Connect Autopayment, configure automatic account replenishment for internet services, and ensure that your balance is always positive.
On iPay.ua, it is possible to set up automatic payment for internet services.
At iPay.ua, we ensure the reliability and security of your autopayment. You can trust that your financial data is protected and not shared with third parties.
If you have any questions or issues regarding autopayments, our support team is always ready to assist you.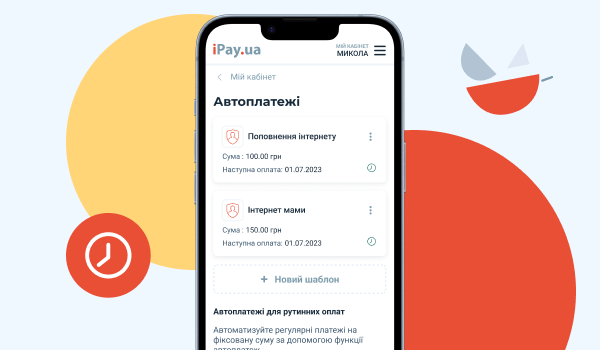 How to create an autopayment?
To create an autopayment on iPay.ua, you need to:
Register or log in to your personal account.
Add an internet payment template in the "My Templates" or "Autopayment" section. When creating the template, enable the "Enable Autopayment" option. Specify the start date of the autopayment, frequency (weekly, monthly, every 4 weeks), and select the card from which the payment will be deducted.
Add a card to Masterpass. You can do this in the "My Cards" section. How to add a card to Masterpass?
On the specified day, the template will be automatically paid for the required amount, and you will receive a receipt via email.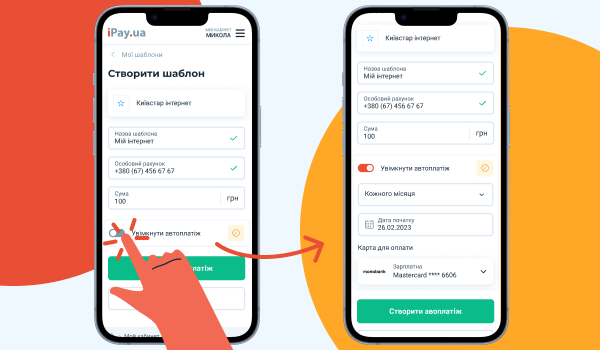 How to check the successful payment for an autopayment?
After making an Autopayment, you will receive a receipt via email.
All deductions will be displayed in your personal account in the Payment Archive.
You can always disable Autopayment or change the deduction amount.
Can autopayment be connected if a template is already created?
Yes, it is possible. If you already have an existing internet template and want to connect autopayment, select the desired template, click "Edit," and enable the autopayment function. Then choose the period and date of the first payment, add or select the payment card, and click "Save".
Which services can be connected?
Currently, connection is only available for internet services.
We are working on improving the service and plan to enable autopayment configuration for other services such as mobile top-up, television, utility bill payments, and more.
Didn't find the answer to your question?
Fill out the form and we will contact you