About iPay.ua
In 2008, the TCGroup * consortium, which has 18 years of experience in the production of plastic cards, ATMs, sim cards, and software, decided to develop the domestic market for internet payments, which was just emerging at that time in Ukraine.
This is how the Universal Data Center company was created, which, borrowing the experience of foreign payment systems and banks, launched its own payment service, known today on the market under the trademark iPay.ua. "Universal Data Center" LLC is the owner of the iPay.ua website, cooperates with "UPR" LLC according to contracts and has the status of a technological operator of payment services.
iPay.ua is an all-Ukrainian service for accepting payments on the internet, through which everyone can pay for services and goods on the iPay.ua website or the iPay.ua partner website using a Visa or Mastercard from any bank in the world.
"Universal Payment Solutions" LLC is a member of the following payment systems:
Financial World - according to agreement No. 14 dated 11.12.2013 with LLC "Ukrainian Payment System" - on joining the Domestic non-banking payment system "Financial World"
UAPay – according to agreement No. VPS-31/07.2023-1 dated 31.07.2023 on participation in the Domestic Payment System "UAPay"
AVERS #1 - according to the Agreement #13 of 09/27/2017 on participation in the international payment system "Avers #1"
GLOBUS - according to the agreement #7 dated 05/03/2019 on participation in the international payment system "Globus"

To promote the development of the Ukrainian internet payments market and its security.

To popularize internet payments among citizens of Ukraine

To allow every Ukrainian to pay for services and goods most conveniently - on the internet.

Implement the latest technologies and methods of protecting card data, ensuring maximum security of payers during online payments.

To develop your own methods of protection against online fraud and offer them to the market to protect not only iPay.ua customers but also clients of other payment services and banks.

To develop the business of our partners - suppliers of services and goods, providing their clients with a modern and most comfortable payment method.
iPay.ua today is:
hundreds of thousands of clients, which successfully use the all-Ukrainian payment service.
Our partners are leading banks of country, that provide the reliable and trouble-free process of realization of internet-payments:

SC CB "PRIVATBANK", EDRPOU 14360570, MFO 305299
Oschadbank JSC, EDRPOU 00032129, MFO 300465
Raiffeisen Bank JSC, EDRPOU 14305909, MFO 380805
Joint-stock bank "South", EDRPOU 20953647, MFO 328209
JSC "Sens Bank", EDRPOU 23494714, MFO 300346
TASKOMBANK JSC, EDRPOU 09806443, MFO 339500
AT "PUMB", EDRPOU 14282829, MFO 334851
AB "UKRGAZBANK", EDRPOU 3697280, MFO 320478
JSC "UNEX BANK", EDRPOU 20023569, MFO 322539
JSC "IDEA BANK", EDRPOU 19390819, MFO 336310
PJSC "BANK SHID", EDRPOU 26237202, MFO 307123

More than 1300 partner companies that accept payment for their goods and services through iPay.ua.
PCI DSS is the highest level of security for internet payments.
Verified by Visa and MasterCard SecureCode - the service works by the requirements of international payment systems.
Pectoral is own development by iPay.ua in the card data protection, which helps to confirm the identity of the cardholder during online payment using an electronic digital signature.
For its many years of activity, the company has become one of the leading leaders in the Ukrainian online payments.
The company has a license to provide financial services.
More than 500,000 customers monthly use the services on the site iPay.ua
A large audience of users - from 18 to 65 years old
All leading banks work with iPay.ua.
On the iPay.ua website, you can pay for the services of all leading Ukrainian utilities, internet providers, mobile operators, and many other services.
Tariffs
There is no monthly subscription fee on our site. Payment in the form of a commission is taken directly from the payer when he makes a payment. The commission for our services varies depending on:
the company you pay for
on the type of card you pay with (VISA, Mastercard, Prostir)
and usually ranges from 0 to 4% of the payment amount.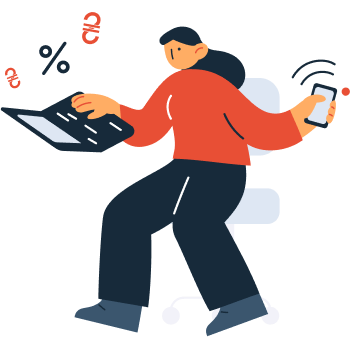 Financial license
The company UNIVERSAL DATA CENTER LLC, which is the owner of the iPay.ua service, has signed a cooperation agreement with the UNIVERSAL PAYMENT SOLUTIONS LLC financial company.
FC LLC UNIVERSAL PAYMENT SOLUTIONS is a financial institution registered following the procedure established by the legislation of Ukraine, which provides services based on the NBU License dated May 1, 2023 No. 21/788-rk.
Owners of significant part of UPS LLCC as of 01.04.2023
Final key participants of UPS LLC 01.04.2023